Submitter
Follow @BibleSupport
Submitted: Jul 21 2012 06:39 AM
Last Updated: Jul 30 2013 04:59 AM
File Size: 466.17K
Views: 2550
Downloads: 488
Author: Alexander Whyte
e-Sword Version: 9.x - 10.x
Suggest New Tag:: Alexander Whyte works bunyan characters e-sword 9.X, 10X wlue777
Support BibleSupport.com
If our e-Sword and MySword modules have blessed you, please consider a small donation.


Your donation pays only for dedicated server hosting, bandwidth, software licenses, and capital equipment (scanners, OCR equipment, etc).



e-Sword 9+ Module Download:
Download Works of Alexander Whyte 1.0





2 Votes

3
Author:
Alexander Whyte
e-Sword Version:
9.x - 10.x
Suggest New Tag::
Alexander Whyte works bunyan characters e-sword 9.X, 10X wlue777
Alexander Whyte

- Scottish minister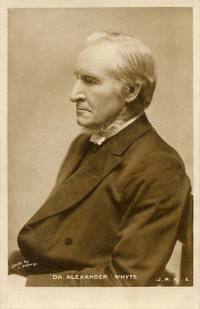 Source: Wikipedia
Born in the small Angus town of Kirriemuir, Whyte was educated at Aberdeen University and the Free Church College in Edinburgh. After four years as assistant minister at Free St. John's, Glasgow (1866-1870), he became colleague and successor to the famous R. S. Candlish at Free St. George's, Edinburgh. His appearance in the pulpit was as arresting and impressive as the preaching itself, which attracted people of every class and kind. A deep appreciation of God's grace to save sinners gave him rare passion and power. A dramatic quality captivated his congregations with its depth of spiritual fervor. "To know Dr. Whyte", said J. M. Barrie, himself a native of Kirriemuir, "was to know what the Covenanters were like in their most splendid hours."
In the month after Dr. Candlish died (1873), Whyte welcomed to Edinburgh two unknown American evangelists, Dwight L. Moody and Ira D. Sankey, and warmly supported both their meetings and the follow-up work. Such was the attendance at his own Tuesday prayer meeting that it had to move from the hall into the church itself. His addresses to men on personal morality were unusually forthright, and some were "shaken to the foundations of their being".
Whyte also had a breadth of culture (he lectured on Dante and corresponded with Newman) not often found in evangelicals of his day. In 1909 he became principal of New College, a post he held until three years before his death. He was moderator of his church's general assembly in 1898, and he wrote much, but it is as a preacher that he will always be remembered.
bio from
www.ccel.org
Works included in this module:
Whyte, Alexander - Jacob Behmen, An Appreciation.topx
Whyte, Alexander - Lord Teach us to Pray.topx
Whyte, Alexander - Samuel Rutherford.topx
Whyte, Alexander - Santa Teresa.topx
Whyte, Alexander - Sir Thomas Browne and his 'Religio Medici'.topx
Tool-tipped, formatted, and files renamed to standard.
Other files you may be interested in ..
20 user(s) are online (in the past 30 minutes)
2 members, 15 guests, 0 anonymous users
Facebook (1), YnottonY, Google (1), Bing (1), Horsefeathers
Works of Alexander Whyte