Submitter
Follow @BibleSupport
Submitted: Jun 13 2012 10:16 PM
Last Updated: Dec 28 2021 11:14 AM
File Size: 47.17MB
Views: 31795
Downloads: 14,679
Author: Johann (John) Bengel
e-Sword Version: 9.x - 10.x
Tab Name: Gnomon
Support BibleSupport.com
If our e-Sword and MySword modules have blessed you, please consider a small donation.


Your donation pays only for dedicated server hosting, bandwidth, software licenses, and capital equipment (scanners, OCR equipment, etc).



Other Modules By Same Author
e-Sword 9+ Module Download:
Download Bengel, John - Gnomon of the NT (Commentary + Dictionary) - (5 vols) 1.0





17 Votes
New Testament
Language / Interpretation
Greek
Exegesis

18
Author:
Johann (John) Bengel
e-Sword Version:
9.x - 10.x
Tab Name:
Gnomon
e-Sword Edition:
This commentary has been re-made, with
25%+ more content, including 7,000+ verse comments
. The commentary is now verse by verse, with 16 megabytes of text. Greek and Hebrew are properly formatted for e-Sword. Footnotes are also included, shown as gray text below the paragraph where referenced or at the end of a verse's comment.
Both the zip and the self-installing exe contain
three modules
: the
commentary
(cmtx module with tab name: Gnomon), the
dictionary
(dctx module with tab name: Gnomon), and a book module containing
supplementary information and indices
(topx module).
(Some books have Book Comments. Either in the Book Comments or in the first few verses, Bengel presents an outline of the entire book.)
About Gnomon
John Bengel's Gnomon is a classic Greek New Testament Commentary, the fruit of twenty years labor. Bengel condenses more matter into a line than other writers say in pages.
It is said that Bengel could convey in two sentences where other authors needed two pages to say.
Bengel modestly entitled his work a Gnomon
or index, a symbol of his desire for the reader to ascertain the meaning, than to save him from the trouble of personal investigation.
Bengel's principles of interpretation were to import nothing into Scripture, but to draw out of it everything that it really contained, conforming to grammatico-historical rules—not to be hampered by dogmatical considerations; and not to be influenced by the symbolical books. Bengel's hope that the
Gnomon
would help to rekindle a fresh interest in the study of the New Testament was fully realized.
Through his authorship of the Gnomon, Bengel is regarded as the pioneer of the modern Bible commentary.
His Gnomon exerted considerable influence on exegesis in Germany and beyond.
John Wesley's
Notes on the New Testament
, which were widely-read and extrememly influential in the English-speaking world long before Bengel was translated, were largely a paraphrase of Bengel.
One of the definitions of Gnomon is the raised part of the sundial that casts the shadow. While the basic function of a sundial is simple, its function serves the greater purpose of telling time and guiding our day. In the same way the sundial serves a purpose in our lives, knowing the New Testament (as well as the entire Bible) is imperative for every Christian.
Reviews C. H. Spurgeon
wrote that Bengel's NT commentary "is the Scholar's delight! Bengel condensed more matter into a line than can be extracted from pages of other writers."
John Wesley said of Bengel, "I know of no commentator on the Bible equal to Bengel" and referred to him as, "The great light of the Christian world."
Philip Schaff, who edited and wrote portions of the American edition of Lange's Commentary, said Gnomon is "
a marvel of condensation and spiritual insight ... and will remain a classic."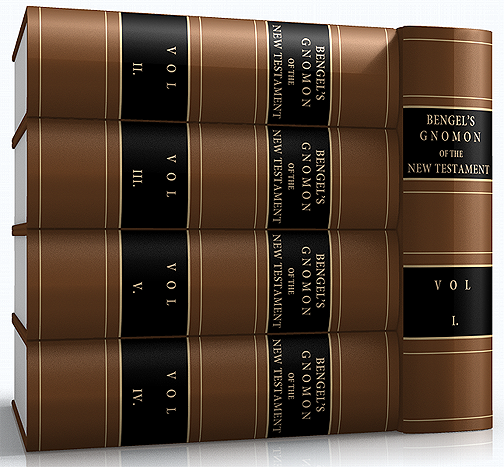 Up;oaded Mac/e-sword 11 version.
Other files you may be interested in ..
49 user(s) are online (in the past 30 minutes)
1 members, 47 guests, 0 anonymous users
Google (1), allo
Bengel, John - Gnomon of the NT (Commentary + Dictionary) - (5 vols)