I am excited and most pleased. I just received the following pop-up on e-sword:
e-Sword HD for the iPad
Coming on October 15th!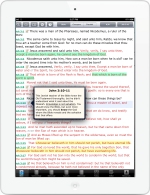 e-Sword — the world's most popular Bible study software is now available on the world's most advanced mobile operating system! e-Sword HD is feature rich and user friendly. As your library grows you will appreciate the intuitive layout and synchronization of resources. e-Sword HD is so easy to use you may never need to tap on the Help button!
For more information visit
e-Sword HD
.