Submitter
Follow @BibleSupport
Submitted: Jul 01 2014 09:08 PM
Last Updated: Jul 01 2014 09:08 PM
File Size: 519K
Views: 3254
Downloads: 262
Author: Fenton John Anthony Hort
e-Sword Version: 9.x - 10.x
Support BibleSupport.com
If our e-Sword and MySword modules have blessed you, please consider a small donation.


Your donation pays only for dedicated server hosting, bandwidth, software licenses, and capital equipment (scanners, OCR equipment, etc).



Other Modules By Same Author
e-Sword 9+ Module Download:
Download Hort, Fenton John Anthony - The Christian Ecclesia





2 Votes
Ecclesiology
Public Domain
Church History

1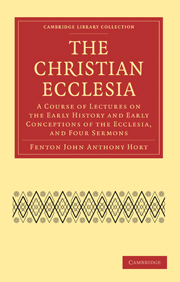 Author:
Fenton John Anthony Hort
e-Sword Version:
9.x - 10.x
This is one of the best-known works of Fenton Hort (1828–1892), Professor of Divinity at Cambridge. Compiled in 1897, it is a posthumous record of a series of lectures delivered by Hort in 1888 and 1889, covering the origins and development of the early Church. Starting with a discussion on the meaning of 'ecclesia', Hort traces church history from the New Testament accounts of the Last Supper and the Resurrection to the problems Christianity faced in the second century. Hort conveys his meaning with absolute clarity, taking a scrupulous, almost scientific approach in his consideration of literary evidence. Four of his sermons are also included, and the book itself stands as a record of the last words spoken in public by Hort. The Christian Ecclesia provides a fascinating account of the beginnings of Christianity and is one of the most significant works by this prolific nineteenth-century theologian.
Other files you may be interested in ..
8,325

Total Files

50

Total Categories

232

Total Contributors

5,098,233

Total Downloads
Son Of Man Bible Latest File

anapto

Latest Submitter
Hort, Fenton John Anthony - The Christian Ecclesia