Submitter
Follow @BibleSupport
Submitted: May 24 2014 09:39 PM
Last Updated: May 24 2014 10:06 PM
File Size: 1.07MB
Views: 2836
Downloads: 380
Author: George W. McDaniel
e-Sword Version: 9.x - 10.x
Support BibleSupport.com
If our e-Sword and MySword modules have blessed you, please consider a small donation.


Your donation pays only for dedicated server hosting, bandwidth, software licenses, and capital equipment (scanners, OCR equipment, etc).



e-Sword 9+ Module Download:
Download McDaniel, George - Churches of the New Testament





New Testament
Church History
Public Domain

1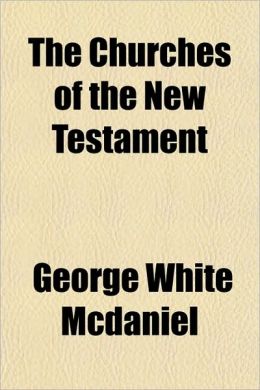 Author:
George W. McDaniel
e-Sword Version:
9.x - 10.x
Author George McDaniel writes in the introduction to Churches of the New Testament:

"The Church" and "The New Testament Church," whatever those terms may mean, have been the subjects of treatment by several authors. These books, for the most part, leave me where Tacitus left his hero—in the middle of the bridge.

The Seven Churches of Asia addressed by the Spirit in the book of Revelation are the theme of several interesting volumes. A discussion of the most important churches of the New Testament, those which figured in the inauguration and propagation of Christianity, which occupied the major part of the history of the Acts, and which called forth the great epistles of Paul, has never been presented in a single volume.

The aim of this book is to show the origin, character, principles, and practices of the New Testament churches; to show the unity which existed in essentials amidst the variety of material and diversity of environment; to point morals and deduce lessons for twentieth century pastors, laymen, and churches."
Other files you may be interested in ..
McDaniel, George - Churches of the New Testament