Submitter
Follow @BibleSupport
Submitted: Oct 06 2012 01:08 PM
Last Updated: Oct 06 2012 01:08 PM
File Size: 4.68MB
Views: 581
Downloads: 367
Author: James Nisbet
MySword Version:: 1.X
Support BibleSupport.com
If our e-Sword and MySword modules have blessed you, please consider a small donation.


Your donation helps this ministry stay online.

Your donation pays only for dedicated server hosting, bandwidth, software licenses, and capital equipment (scanners, OCR equipment, etc).



New: Other Modules By Same Author
MySword (Mobile) Module Download:
Download Nisbet, James - Church Pulpit Commentary (12 vols) - Droid MySword Version






0
How do I view MySword modules?
Note: After you download the file to your PC or your android device, the file must then be moved to the MySword folder on your android device. If downloading directly to your android device, you may need to install a file explorer app to be able to move the file to your MySword folder if your device does not have one already.
Author:
James Nisbet
MySword Version::
1.X
This 12 volume set contains concise comments and sermon outlines, perfect for preaching, teaching, or just another perspective on a passage for any lay person.
James Nisbiet compiled and edited the Church Pulpit Commentary. Over 100 authors wrote short essays, sermon outlines, and sermon illustrations for selected verses of the Bible. The authors include Handley Carr Glyn (H.C.G) Moule, F.D. Maurice, and many other bishops and pastors.
As with many commentaries of this nature, the New Testament contains substantially more comments than the Old Testament.
MySword Notes:
This is not the famous Pulpit Commentary. This is a different commentary.
Not every verse includes a comment.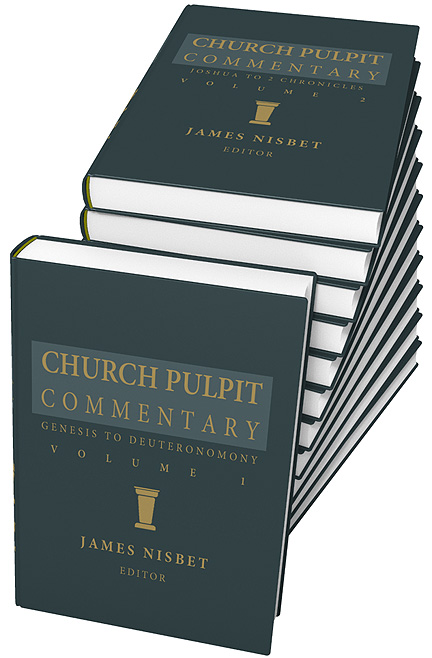 Other files you may be interested in ..
7,623

Total Files

49

Total Categories

87

Total Contributors

1,980,956

Total Downloads
Restored Holy Bible 2.5 Latest File

Katoog

Latest Submitter
20 user(s) are online (in the past 30 minutes)
11 members, 5 guests, 0 anonymous users
Roy Hariandja, Monique, dhbrinkman, nickwu2003, VICTORREA, born again, Bing (4), guebin, Pastor Frankincense, nando, jose Quintero, geoff
Nisbet, James - Church Pulpit Commentary (12 vols) - Droid MySword Version