Submitter
garretds7
View other files from this member
Follow @BibleSupport
Submitted: Dec 20 2011 02:21 AM
Last Updated: Nov 10 2012 10:00 AM
File Size: 4.2MB
Views: 4988
Downloads: 814
Author: J.H. Allen
e-Sword Version: 10.x
Support BibleSupport.com
If our e-Sword and MySword modules have blessed you, please consider a small donation.


Your donation pays only for dedicated server hosting, bandwidth, software licenses, and capital equipment (scanners, OCR equipment, etc).



Other Modules By Same Author
e-Sword 10 Module Download:
Download Allen, J. H. - Judah's Sceptre and Joseph's Birthright 2.0





3 Votes
History
Biblical Studies
Unorthodox
Comparative Religion

0
Author:
J.H. Allen
e-Sword Version:
10.x
JUDAH'S SCEPTRE AND JOSEPH'S BIRTHRIGHT By J. H. ALLEN
Originally published, 1902.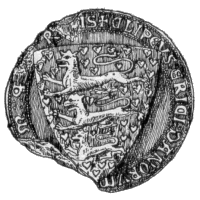 An Analysis of the Prophecies of the Scriptures in regard to the Royal Family of Judah and the Many Nations of Israel, the Lost Ten Tribes
A notable and immensely significant sign of the times is the revival of interest in Old Testament prophecy that is beginning to be strongly felt in Anglo-Saxon countries. This book presents facts and considerations which every­one must sometime take into account, for they are des­tined to become important factors in world affairs.
A reviewer in the Baptist Messenger says, "This is one of the most interesting volumes we have read in many a day and we confess that the arguments produced by Mr. Allen seem to be unanswerable. It is more thrilling than Western fiction. The description of the scarlet thread, the royal remnant, and the part played by Jeremiah in the preservation of the ruler for David's throne, will cause you to lose sleep rather than go to bed without knowing the outcome."
Tool-tipped and formatted.
Other files you may be interested in ..
33 user(s) are online (in the past 30 minutes)
4 members, 27 guests, 0 anonymous users
owenbevelyn , Bing (2), Paulclem , PShawTx , Ralph Bagnol
Allen, J. H. - Judah's Sceptre and Joseph's Birthright