1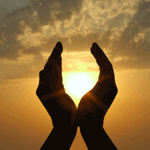 Eternal Stuffs.. LOVE.
"There is no fear in love; but perfect love casteth out fear: because fear hath torment. He that feareth is not made perfect in love."
(1Jn 4:18)
.
Have you ever ponder on this verse? It says to drive out fear, we need to perfect love. But most personally thought it should have been strength, that
"perfect strength casteth out fear"
. How far off can we be. And if this scripture is true, then how is it connected to driving out fear?
Against the fear we have concerning the "Day of Judgment", the scripture says that:"There is no fear in love; but perfect love casteth out fear:"..that it's only perfected love that can cast out all fears. So we need to know the "what", "how", and "why" of this love made perfect.
What is Love?
To know what love is and how it's perfected is very crucial for every believer of/in Christ, for there is a
world of difference
between these two:
(1) giving our lives to Christ, and
(2) giving everything to Him while we're still in control of our lives.
It's a life in total surrender, a matter of life and death.
"Herein is love, not that we loved God, but that he loved us, and sent his Son to be the propitiation for our sins."
(verse 10)
It's not so much about just giving everything, but to know who has given everything for "The Fix". Now we understand what love really is. For it is
"the required"
in fixing sin. It is what prompts and propel into giving/providing the solution to fix sin. Clearly, no believer that is sent can fix sin without loving first. And this love must be perfected in our missions/doings.
Not just talks and no deeds (i.e, the prompts), but both.
How do we love?
"Beloved, if God so loved us, we ought also to love one another"

(verse 11).
This is what we must not miss nor overlook. The demonstration God gave to us while we were yet sinners, is what we need to do to ourselves in our own demonstration to the world. Transparency of intention/s helps in the depth of our understanding each other. For us to function as a body, we need this "openness" and unreserved love amongst ourselves. Our hearts must be made known to our brethren. No dark corners or intentions towards another believer/s.
Why should we love?
To have boldness in the "Day of Judgment", we must love for these two reasons;
Perfection, and
Demonstration.
Our
"perfection of love"
will be a very powerful
"weapon of demonstration"
to draw the lost into the fold, and a proof that we know God, Who resides within us.
"No man hath seen God at any time. If we love one another, God dwelleth in us, and his love is perfected in us."
(1Jn 4:10-12)
. And this is how love is perfected to drive out fear of the day of judgment in us.
"Herein is our love made perfect, that we may have boldness in the day of judgment: because as he is, so are we in this world."

(verse 17).
Therefore, for any to be bold to stand before God in the Day of Judgment, we must be perfect in love to demonstrate we know God. Shalom.