0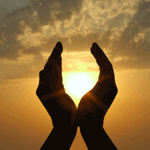 1
votes
Faith-ing It.
When I look at the way we "act" in and during the worship of God, I am not always happy. Many of us act as thou we are spotless, while some act as thou they are ashamed of and seeing people like me knee down with my hands raised up in total surrender before the
omnipresent God
, Whom they feel is not present. Don't they know that
"He that planted the ear, shall he not hear? he that formed the eye, shall he not see?" Psa 94:9
Why?! Don't we believe and trust His Word/s anymore?
Dust to Dust.
Have we forgotten so quickly that our so-called body is made from the dust, and dust shall it return to? We need to ask ourselves these questions:
Is it a crime for our bodies to "touch" the ground/floor in worship of God?
When is this honour due God?
What many of us are yet to grasp is that
worship is an invitation to God
, and the
Omnipresent
God NEVER turn down or misses any worship in His name. Never has He missed one, and Never will He.
"For where two or three are gathered together in my name, there am I in the midst of them." Mat 18:20.
So why are we acting-up right in front of Him?!
Faith-ing It.
Are you faith-ing it or faking it?
When we do exactly as commanded, we are faith-ing it, and when we don't,we are faking it. Our whole being(i.e, body,soul,and spirit) must be as one before God. And these
(not the body,soul and spirit, but thoughts.)
are what we don't want to bring to the worship of God:
You can't afford to be physically present while your soul and spirit are wondering to and fro all about the earth.
You also don't want to be thinking of clothes, looks, money, etc when you're before God. [Note that your needs and wants are proposed and received during praise session. This is when you "talk sweet or sweet-talk" God like we do our earthly fathers. smiles .]
Your whole being Must be one in unity before God in worship, in total surrender - the very reason why worship time must be extended in our churches. Worship is like requesting for our War-ship from heaven. It's always a time of victory.
Holy Ground.
What if I tell you that worship brings holiness to bear on the place of worship, will you believe me? Do you remember the encounter Moses had with the burning bush on the mount of God in Exodus Chapter 3?
"And when the LORD saw that he turned aside to see, God called unto him out of the midst of the bush, and said, Moses, Moses. And he said, Here am I. And he said, Draw not nigh hither: put off thy shoes from off thy feet, for the place whereon thou standest is holy ground."(Exo 3:4-5)

...
the ground you're on right then in worship is holy! I know some are saying that God now dwells in us, and that is true. Nevertheless, many infirmities are cleansed during these times because of His holy presence, and it's now
"from within and without the body experience"
for the saints that regularly worship God, our Father in heaven. Can you imagine the effect of worship on the unbelievers that are also present?!
My conclusion is that we need to have a firm understanding of what is commanded and to do them appropriately. Hands raised up in total surrender with the knees bent at the mention of the name of Jesus Christ, shouldn't be too difficult for the saints of God.
"That at the name of Jesus

every knee should bow

, of things in heaven, and things in earth, and things under the earth; And that

every tongue should confess

that Jesus Christ is Lord,

to the glory of God the Father

." Php 2:10-11
It's every Knee and Tongue.
Doing this in worship, is faith-ing it and pleasing to God. And remember that whenever the omnipresent God is sent an invite, He will be present and should be recognized and properly welcome. Caution: don't send Him an invite if you won't honour Him.
I know this is just a short message on this very weighty command to war/worship.