0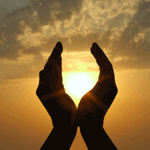 1
votes
Oneness in Love.
"

That they all may be one

; as thou, Father, art in me, and I in thee,

that they also may be one in us

: that the world may believe that thou hast sent me. And the glory which thou gavest me I have given them;

that they may be one

, even

as we are one

: I in them, and thou in me, that they may be made perfect in one; and that the world may know that thou hast sent me, and hast loved them, as thou hast loved me." (John 17:21-23)
I will strongly recommend you read the whole chapter of John 17 to fully understand what I am about to share. At the very beginning of this beautiful chapter marking the last hour that Christ would be glorified through the death on the cross, He lifted up His eyes to heaven and prayed for the body of believers He is leaving behind. Surely this prayerful chapter would be "loaded up" as expected.
My attention is drawn to the focus of His prayer in this chapter, which is about
"
Oneness"
. This chapter therefore speaks solely about being one. From verse 21-23 Christ made mention of this oneness in His request to God before His disciples, and it shouldn't be neglected. The question now is, why is this oneness this important?
The Trinity
.
Every bible believing church and believer knows about the Father,Son and Spirit. Our gospel message of John 3:16 isn't a strange one to true believers. And also that the One only God Almighty revealed Himself to us in Trinity, showing and demonstrating
eternally
, the oneness in the bond of love. I believe God through the Trinity has given us a big clue to what is required of us. God through the Trinity is expecting from us this same bond of love, that is oneness, in order to make us perfectly fit for bonding with God Himself in the Trinity. All we have been reading about in the scriptures concerning the Great day of the Lord; the wedding feast; and so on; is about the
Trinity bonding with the Church forever.
The Bridegroom
(i.e, Christ, the Representative of & the Link between God/Trinity and man)
is coming back for His bride/Church, and the bride must be made perfectly ready for the Bridegroom. And the only way
proposed
to us is to bond together in love as a body, the Body of Christ. It is the same gospel of John 3:16; that God gave from Himself a Saviour to make a Way by His blood back to God. And it's also a demonstration of the bond of love in God/the Trinity.
The Church

.
They are the Body of Christ represented here on earth. They that believes in His name and message, and are the ones referred to in this chapter as those that have eternal life.
" And this is life eternal, that they might know thee the only true God, and Jesus Christ, whom thou hast sent." (John 17:3 )
. This is
"the Bride"
being made ready for the marriage of the Lamb
(Mat 22 and 25)
. There is a marriage and it is absolutely necessary that everyone that name the name of Christ be present. This is the "bonding" of God and the redeemed Church. At this wedding feast, God is going to finally bond to the redeemed, who then shall be transformed to look like the
glorified
Christ!? I mean this Day that
Joel 2:16 spoke of
will be the Day of making God-like people, that is, sons and daughters of God,
1John 3:1
. I mean gods! And will they be able to receive worship? This is a hard saying, but I will say yes.
"To be like"
is no small thing
(1 John 3:2).
Our readiness is what is keeping this Day from
being
now, and it's never the devil, but us coming together in oneness, in the bond of love, demonstrating that we love God and Whom He has sent. You can click on
Loving God
to read more on this.
The Ready Church

.
This can only happen when we become one as the Body of Christ/Lamb, then we shall all proclaim with the Holy Spirit as in
Rev 22:17
"
And the Spirit and the bride say, Come. And let him that heareth say, Come. And let him that is athirst come. And whosoever will, let him take the water of life freely."
These are the redeemed the Holy Spirit is making ready for the Bridegroom today. Our response to the prayer for oneness in John 17 is what heaven is waiting for to happen. Our readiness is in our bonding as a body worldwide as heaven citizens and not earthly. Clearly Christ said that He is not of this world, and likewise His body for
" They are not of the world, even as I am not of the world." ( John 17:16).
As heaven citizens, we have been giving this commandment to love one another above anything else on this earth, thereby showing and declaring that we know God and His Christ.
In conclusion, I believe you've seen how critical it is for true believers to stretch far and wide towards other believers and bond in divine love, as demonstrated by the Trinity. The Trinity is already eternally One, and they want to bond with us
(i.e, the church)
as one, eternally.This is the making of gods!
"Behold, what manner of love the Father hath bestowed upon us, that we should be called the sons of God: therefore the world knoweth us not, because it knew him not." (1John 3:1),
and the only thing keeping many of us from manifesting this sonship status today is oneness in love for each other. [Note: your church is not limited to your chapel building, but part of a bigger and wider church all across the world, with diverse culture. And this shouldn't be a stumbling block to you. Intercessions and interactions among believers from all nations of the world within the church must not be stunted.]