2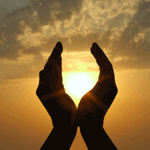 How Long Before We Leave....
By
LarryG
, 22 April 2018 · 1,353 views
I found this today, it was found among the possessions of Mrs. Charles H. Cowman after her death. As you know, she was a VERY prolific author writing wonderful devotionals.

Finish thy work, the time is short.
The sun is in the west,
The night is coming down,

'Till then, think not of rest.
Rest? Finish thy work then rest.
Till then, rest never.

―In No Guarantee but God, By Edward and Esther Erny.